Family Photos
Yes, this is taking a while to load. Sorry for the delay. We'll try to improve the load time in a future update. All the following individuals are descended from Malcolm Munroe. John C. Monroe, Calvin C.J.Munroe and Francis Marion Munroe were all first cousins. Click here to see this family's genealogy page.
---
John Calhoun and Margaret Elizabeth "Bettie" Monroe
Photo circa 1910, taken at their farm near Big Oak Church, Moore Co., NC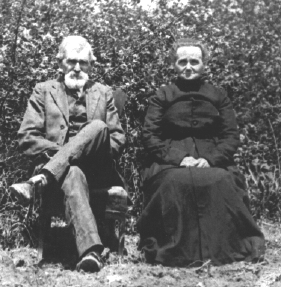 My great-grandparents. He was the son of John and Mary Deaton Monroe,
she the daughter of Wesley Fairly and Christian McKinzie Sewell.
---
John C. and Bettie Monroe Homeplace
On Big Oak Church Road, Moore County, NC
House was built ca. 1880 and razed 1966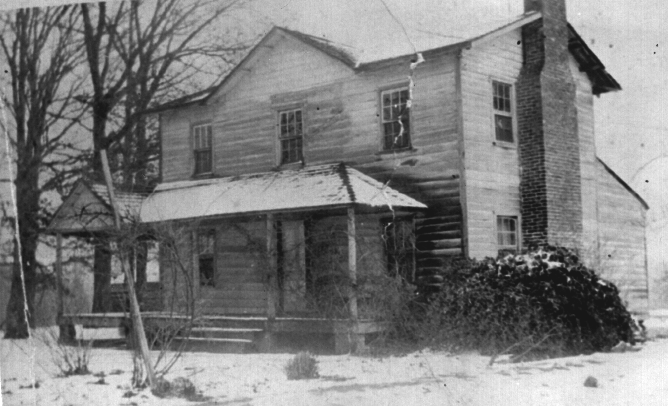 ---
Calvin Jones Cochran Munroe and Elizabeth Atilla Brown Munroe
On their 50th wedding anniversary, Nov. 4, 1919
(The two family friends are unidentified.)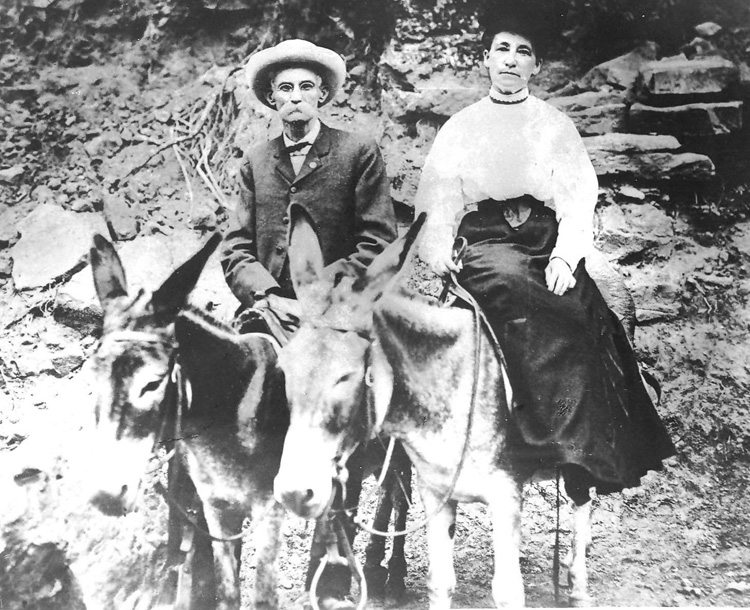 Calvin is the son of Archibald Munroe and Terri Emily Cochran. Lizzie is the daughter of George W. Brown and Jane Irvin. Read Calvin's Civil War letters written home and others here. (Photo courtesy of Shea Munroe Young.)
---

Claude Cornelius and Lucy Louanna Britain Monroe
Photo Circa 1934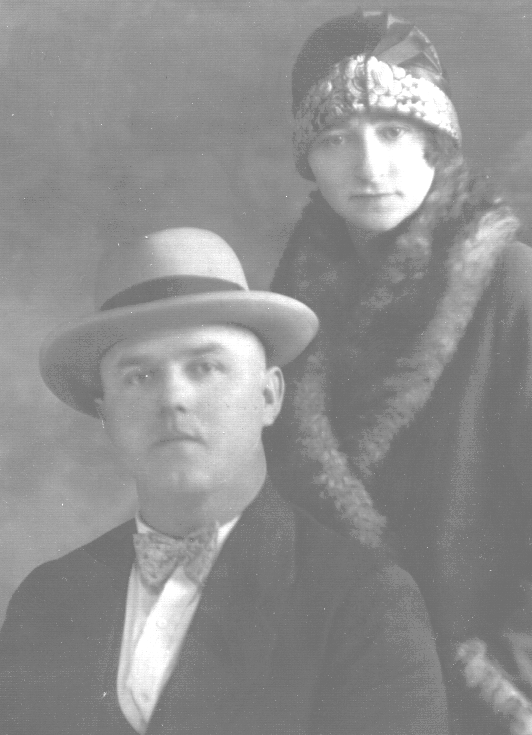 My grandparents. He was the son of John C. and Bettie Monroe (above),
she the daughter of Benjamin Franklin Brittian and Lucy Jane Nelson of
Coushatta Parish, Louisiana
---
The Family of
Francis Marion Munroe and
John William and Helen Munroe Nelson
Photo Circa 1924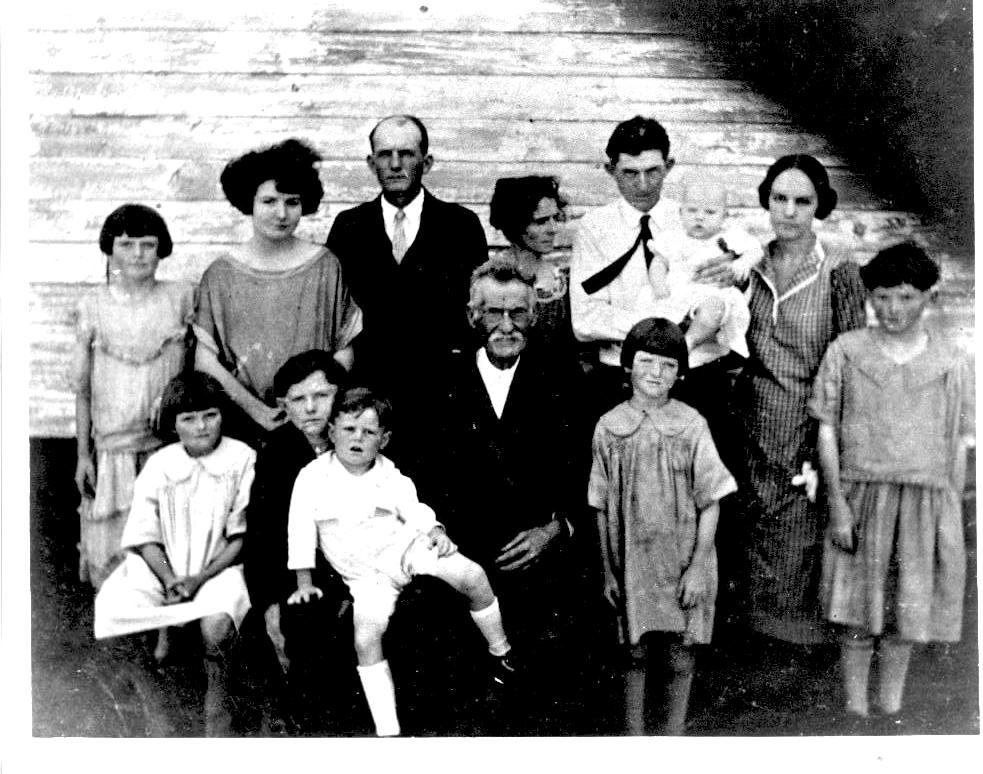 Francis Marion Munroe, 1845-1926, (center) of Clay County, Alabama, his daughter, Helen Ann Munroe Nelson, 1886-1969, (behind Francis, with head turned), her husband, John William Nelson, Sr. (to Helen's right, wearing jacket), and their family family. The children are, front row, left to right: Nina Ruth Nelson, Thomas Arthur Nelson, John William Nelson Jr., Francis, Sybil Irene Nelson, Jean Nelson. Back row: Una Thelma Nelson, Jessie Nelson, John Sr., Helen, Francis Albert Nelson holding his son Millard Carlon Nelson, and Francis' first wife, Carrie Clannie Martin Nelson. (Photo provided by Ron Nelson. Ron is researching this line of Nelsons. Contact him at RN16ENG@aol.com )
---
Duncan Munroe
1806-1896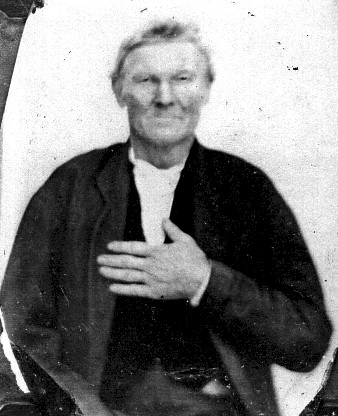 Duncan was the son of Malcolm Munroe and Margaret Black Munroe. He was born Sept. 11, 1806, in Moore Co., NC and died Dec. 17, 1896, in Haralson Co., Ga. This is the only known photograph of an individual of this generation. (Photo courtesy of Eve Harris)
---
Site of John Monroe's Mill
on Wet Creek, in northeast Moore County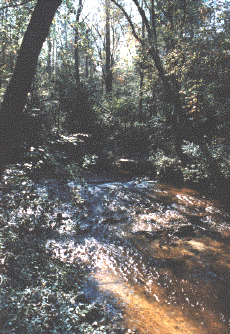 The rocks and timbers in the creek bed are the reminants of the mill dam. This was a "crib" dam with two, parallel walls built about eight feet apart then filled with stones and soil. The horizontal bands (difficult to see in this photo), are large, heart-pine timbers forming the foundation of the dam. Mortises are still visible in the timbers where the verticle members were installed forming the dam walls. Ultimately, the dam would have been only about six- or eight-feet high, with a "tub wheel" installed at the base of the dam to power the mill. In this area, the geography was too flat for overshot mills, with the large, verticle water wheel typical in other parts of the country. According to family tradition, John Monroe began construction on the mill in 1835, but it was never completed. He moved about a half-mile downstream and built and operated a mill there for many years.
---

Copyright 1988, 1995-1999 Donald R. Monroe. All rights reserved. Permission is hearby granted for one-time use by individuals conducting genealogical research. Commercial use is strictly prohibited.