Monroe Cemeteries
Within Fort Bragg, North Carolina
More than 40 Monroe/Munroe ancestors are buried in cemeteries now within the boundaries of Fort Bragg. The sprawling U.S. Army reservation now includes much of the land inhabited by early Monroe settlers in Cumberland, Hoke and Moore counties. The Monroes are buried in two large church cemeteries, Sandy Grove and Long Street Presbyterian churches, and two smaller, private cemeteries. . The cemeteries are maintained and preserved by the Army. Many, no doubt, would have been lost except for the stewardship of the military.
A fourth cemetery, on Buhman Road, just south of the boundaries of Ft. Bragg, is included here as well.
In 1996, the Army undertook a comprehensive survey of all cemeteries and memorials within Fort Bragg. The survey (taken with the precision you would expect of an airborne operation, even including artillery coordinates for some cemeteries) has been compiled into a book, Cemeteries of Fort Bragg, Camp Mackall and Pope Air Force Base, North Carolina, edited by Beverly A. Boyko and W.H. Kearn. All information on this web page is taken entirely from this book. The book includes detailed descriptions of the tombstones and transcribes the inscriptions in their original format. Since our interest is genealogical, that detail has been deleted here.
Note that only individuals with a Monroe/Munroe surname or with obvious Monroe connections have been included here. Undoubtedly further research would reveal additional Monroe in-laws and women whose maiden names are not included.
For more information, to obtain a copy of the book, or for permission to visit the cemeteries, contact:
Beverly A. Boyko
Headquarters
XVIII Airborne Corps and Fort Bragg
Directorate of Public Works and Environment
ATTN: AFZA-PW-DP (B. Boyko)
Fort Bragg, NC 28307-5000
Sandy Grove Presbyterian Church, Quewiffle Township, Hoke County (1859-1977)
Sandy Grove Cemetery is located in a cleared area to the north of Sandy Grove Church at the intersection of Sandy Grove and Plank roads, approximately three miles north N.C. Highway 211. The church and cemetery are surrounded by a 4' high chain link fence with padlocked gate. Most of the head and footstones face to the west. In 1923, 57 graves had tombstones and 91 others were marked with flat top cement markers for a total of 148 (Patterson & Carswell, 1925). All of the footstones are flat topped unless otherwise noted. Presently there are 214 marked graves. The earliest dated grave is Alexander Campbell (1817-1859). The last person to be buried here was Mary Chappell King Wright (1896-1977).
Monroes buried at Sandy Grove include:
Ann E., Wife of Elisha Monroe, Born June 8, 1858; Died Mar. 14, 1909
Elisha Monroe, Apr. 15, 1827; June 3, 1915
Malcom Neille Monroe, Born Jan., 1825; Died June 27, 1898 Co. A, 5th NC Cav. Reg.
Margaret A., Wife of Malcolm Monroe, Born Sep. 29, 1841; Died Oct. 29, 1875
Martha J. Monroe, Wife of M.A. Patterson, Nov. 24, 1863; Apr. 18, 1926
Archibald G. Munroe, Born April 15, 1852; Died July 15, 1920
Evander Munroe, son of Peter & Isabella Munroe, Born Jan'y 30, 1842, Died Feb'y 11, 1865; Co. A, 5th NC Cav. Regt.
Isabella J., Wife of Peter Monroe; Born April 5, 1818; Died Feb. 21, 1888
Peter Monroe; Born Dec. 12, 1812; Died Jan 16, 1888
Long Street Presbyterian Church; Argyle, Little River Township, Hoke County, 1773-1932
This is a large cemetery with 232 identifiable graves located in a cleared area surrounded by woods on the 370' contour. the cemetery is located southwest of Long Street Church, 400 feet east of the intersection of Longstreet Road and Preacher's Road. The cemetery is surrounded by a three-foot-high dry masonry stone wall encompasing an area approximately 250' x 80'. There are entrances on the eastern and northern sides. The church and cemetery are surrounded by a 4-foot-high chain link fence with a padlocked gate. The earliest marked grave is that of Juajin (Lauchlin?) McNeill, 1773, while the most recent is that of M. Neil Buie who died in 1932. All headstones are east-facing.
A mass grave of approximately 30 Confederate soldiers is found here. These troops were either killed in action or died of wounds received at the Battle of Monroe's Crossroads on March 10, 1865. Their remains were moved here after the Civil War. The grave is marked by a simple white marble obelisk inscribed "Confederate Soldiers" placed by the women of Argyle in 1870 as a memorial not only to these, but also to men buried on other fields. In 1993 the U.S. Army added a memorial tablet to this grave. Several other markers memorialize veterans of the Confederate Army.
For more information on Long Street Presbyterian Church, please see the Moore County GenWeb site.
Monroes buried at Long Street include:
Archie B. son of E. & M.G. Monroe Born Oct 6, 1875 Died Aug 11, 1891
Christopher Monroe Who died January 26, 1869 Aged 62 Years
Archibald A. Monroe Born July 2, 1863 Died March 19, 1881
Mary E., Wife of Dr. A. J. Monroe Born January 2, 1836 Died June 26, 1878
Malinda Monroe 1828 1900
Sarah W. Monroe 1831 1900
Catherine Monroe 1825 1900
Effee Monroe 1829 1884
Edward William son of Peter and Catherine Monroe Born Dec. 8, 1834 Died Mar. 19, 1853 Aged 18 yrs, 3 mos, 11 days
Flora E. Monroe Born May 31, 1815 Died Oct. 24 1867
Peter Monroe Born August 22, 1790, Died June 10, 1872
Margaret Wife of Patrick Monroe Sepr 19, 1819, May 13, 1890
Neal son of J.H. & B.T. Monroe Born and Died Apr. 16, 1920 Of Such is the Kingdom of Heaven
Thomas A. Son of J.H. & B.T. Monroe Dec. 12, 1918 Feb. 14, 1919 Safe in the arms of Jesus
Vivian E. Dau. of John McN. & Ida Monroe Oct 14, 1919, May 9, 1920 God blesses in a early death, And takes the Infant unto Himself
Catharine Turner wife of Tho's Monroe Born March 1793, Died Oct 18, 1856 My wife. She was mine own. I was as rich in having such a jewel as twenty seas, if all their sands were pearl, the water nectar and the rocks pure gold.
Thomas Monroe Born June 13, 1792 Died Feb 27, ____
Daniel A. Monroe Capt. Co. K. 38th N.C. Regt. born March 20, 1829, Died Sept. 24, 1863
Andrew Monroe Sgt. Co. K, 38th NC Inf Regt, Born July 19, 1831 Killed at the battle of Chancellorsville, May 3, 1863
Pvt. William John Monroe Co. B 18th NC Regt CSA 1824 1862
Duncan J. Monroe Co. K., 38th NC Inf. Regt Born Dec. 23, 1834, Died April 19, 1894 Aged 60 years
A precious one from us has gone
A voice we loved is still;
A place is vacant in our home,
which never can be filled!
Fannie wife of D.J. Monroe Born Feb. 15, 1840 Died Feb. 26, 1905
We miss thee from our home dear mother,
We miss thy Kind, willing hand
We miss thy fond and earnest care'
Our home is dark without thee,
We miss thee every where.
Annabella Monroe June 11, 1827 Feb. 18, 1904
Henry N. Monroe Co. A 5th NC Cav Regt March 12, 1824 March 31 1901
Isabella McP. wife of Thomas Monroe Born April 18, 1831 Died Oct. 3, 1909 Blessed are the pure in heart for they shall see God
Thomas Monroe Co I, 51st NC Inf. Regt born April 4, 1825 died Dec. 18, 1900 Blessed are the dead who die in the Lord
Catharine Monroe Nov. 30, 1822, Oct. 1896
Effy Monroe who died March 1, 1796
John Malcolm Monroe North Carolina Revolutionary War 1761 1832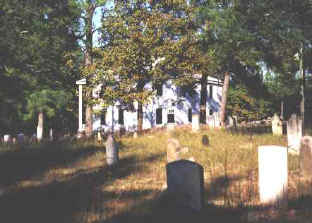 Long Street Presbyterian Church and Cemetery
McIntyre Cemetery; Seventy-First Township, Cumberland County, 1801-1869
McIntyre is a small cemetery in a wooded area west of Stewart's Creek (250' contour) and just east of the patrol road on the northeast corner of the post ammunition supply point. The cemetery is surrounded by a three-foot-high dry masonry sandstone wall approximately 50'x20' with an entrance on the western side. Twenty graves are marked. All of the markers and footstones face to the west.
Munroes buried there include:
Jane Munroe, wife of Daniel Munroe, who died February 24th, 1826, aged 21 years
Their infant Jane McIntyre (Monroe), aged 4 months
Monroe (Gaddy's Mountain) Cemetery; Little River Township, Hoke Co., 1866-1892
Located in a small cleared area surrounded by woods, on a hilltop above Deep Cree. The cemetery is approximately 200 feet south of Longstree Road and 200 feet west of Deep Creek. There are eight marked graves (2 marble, six sandstone), the earliest being that of Charles M. Monroe ( 1812-1866) who was the owner of the farm where the Civil War Battle of Monroe's Crossroads was fought on 10 March 1865. the other marked stone is that of Sarah Monroe (1826-1892). Information on file at Fort Bragg's Real Property Planning Division indicates that three whites and seventeen blacks were buried here. The approximately 27-by-30-foot cemetery is surrounded by a dry masonry stone wall approsimately three feet high and two feet thick with straight sides and squared corners. The head and footstones face to the west.
Sarah Ann Monroe Consort of I.D. Gaddy Born Nov. 17, 1826, Died May 1, 1892
Israel D. Gaddy 2nd Engineer Regiment, CSA (memorial marker erected 1998)
Charles M. Monroe Who Died June 8, 1866 in the 54th year of his age.
Monroe Cemetery, Buhman Road, Cumberland Co., NC
Although outside the Fort Bragg reservation (and not included in the base cemetery survey) this Monroe Cemetery is just south of the base boundary, and just north of the Fayetteville Fish Hatchery and Highway 401. It is between Little Rockfish and Bones creeks. The cemetery contains 55 marked graves and several unmarked graves. (Source: Cumberland County Cemetery Survey, Vol. I, published by Cumberland County Genealogical Society)
Row 1
Virginia Ellis; May 14, 1859; Oct. 14, 1937
Flora Ellis; Jan. 1, 1857; July 31, 1930
D.H. Ellis; Nov. 23, 1897; Aug. 7, 1923
Anthurrine Winz; Dec. 1, 1897; Oct. 21, 1905
Margaret McGill; dau. of N.A. & Lilly McGill; Aug. 14, 1914; May 11, 1916
Lilian G. McGill; dau of N.A. & Lillie McGill; Feb. 2, 1920; Nov. 19, 1922
Row 2
Mary C. Ellis; born Dec. 8, 1862; died Apr. 17,1919
Rebecca McGill; died Feb. 18, 1891
Margaret McGill; died May 8, 1890
Daniel Ellis; died May 2, 1907, aged 79 years
Annie Ellis; his wife; died Nov. 22, 1893, aged 75 years
Ethel G. Ellis; dau. of J.T. & Maggie; born May 27, 1900; died June 3, 1910
Daniel J. McGill; born April 19, 1886; died Aug. 30, 1905
Mary D. McGill; wife of D.J. McGill; July 4, 1896; Apr. 27, 1924
D.K. McGill; Aug. 12, 1815; July 19, 1882
Maggie I. McGill Ellis; wife of J.T. Ellis; Oct 14, 1879-Sept. 6, 1930
James Thomas Ellis; Feb. 4, 1872; Nov. 21, 1951
Row 3
Mary McGill; died Feb. 29, 1884 (length of grave indicates adult)
Catherine McGill; died Sept. 26, 1879 (length of grave indicates adult)
John McGill; eldest son of the late N. McGill, who died Nov. 12, 1860, aged 64 years
Flora McKay McGill; consort of Neill McGill, who died Nov. 6, 1851, aged 75 years
Neill McGill: a native of Scotland; died March 24, 1839, aged 68 years
Gilbert Carmichael; who died Mar. 11, 1833, aged 70 yrs., 11 mos. He was a native of Scotland and emigrated to N. Carolina in 1790.
Mary Carmichael; consort of Gilbert Carmichael, who died July 24, 1821, aged 51 years.
(Unreadable red stone marker)
John B. Carmichael; who died Dec. 30, 1837, aged 38 years, 1 mo., 10 days.
Nancy Carmichael; wife of John B., died March 5, 1889, aged 86 years, 5 mos.
Dugald Carmichael; son of John and Nancy, who died Jany. 8, 1862, aged 33 years, 1 month, and 26 days. Erected by those have lost in him a dutiful son and affectionate brother
Gilbert Carmichael; son of John & Nancy; died Aug. 31, 1862, aged 33 years, 9 mos., 19 days.
Archibald Carmichael; son of John B. & Nancy; died March 7, 1905, aged 73 years, 1 mo., & 21 days.
"In memory of Daniel C. Monroe, the donor of this Private Cemetery, Feb. 17, 1886"
James F. Hamby; Feb. 5, 1853; Nov. 8, 1968
Row 4
Lucelia Monroe; dau. Of G.E. & Katie Monroe; Aug. 30, 1898; Sept. 1, 1905
George E. Monroe; died Oct. 21, 1901, age 40 years
Duncan J. Monroe; born 1833; died 1865
(Possibly another grave, marked by flowers planted.)
Row 5
George M.D. Monroe; Dec. 29, 1825; Apr. 28, 1845
Mary Ann Monroe; May 2, 1824; July 27, 1852
Neil L. Monroe; May 22, 1821; Dec. 2, 1907
(Wood marker, no name, almost gone)
Row 6
Joe McA. Monroe; Sept 30, 1872; Feb. 26, 1962
Robina S. Monroe; July 12, 1865; Feb. 17, 1956
Duncan L. Monroe; Dec. 19, 1827; Dec. 3, 1908
Martha Monroe; wife of Duncan Monroe; died May 11, 1901, aged 63 years
Susan Hilliard; died June 2, 1884, aged 27 years
(Wood headstone, no name, will soon be gone)
W.D. Monroe; Apr. 8, 1867; Dec. 2, 1901
Row 7
John A. Monroe; Feb. 1, 1842; Apr. 30, 1887
Row 8
William A Monroe; June 30, 1904; Nov. 14, 1964; Father
Stella Ray Monroe; Jan. 29, 1900; Jan. 27, 1972; Mother
Thomas Talmadge Monroe; July 8, 1899; Feb. 22, 1947
Neil Patrick Monroe; March 12, 1865; July 9, 1942; Father
Sarah Margaret Monroe; June 23, 1874; Dec. 22, 1942; Mother
James F. Monroe; son of N.P. & S.M. Monroe; Feb. 1, 1901; Aug. 30, 1905
Row 9
John W. Hancock; Sept. 10, 1867; May 26, 1934; Virginia 1st Sgt. 5 Field Arty.
Mary A. Hancock; May 1, 1881; Jan 22, 1965
Duncan Charles Ray; Aug. 1, 1875; June 14, 1968
Clarence Cook Monroe; April 4, 1924; Oct. 6, 1969
Nellie Jane McDougald; June 8, 1894; Feb. 18, 1969
Avalene McDougald Capps; Aug. 15, 1924; July 12, 1967